Jan 11, 2023
How Teachers Use FinCap Fridays
Boost engagement with fun and versatile FinCap Fridays. Check out these 4 tips to get started and 4 tips to level up with FinCap Fridays.
FinCap Fridays make it easy to bring relevant current events into your classroom. Each one includes a 2-minute video, 5-question quiz, discussion prompt, and additional resources. With ~175 different FinCap Fridays, you're sure to find the perfect resource!
We collected teachers' suggestions from FinLit Fanatics. Here are some of our favorite tips for how you use FinCap Fridays in your classroom:
Tips to Get Started
1. Use the FCF Library
Search the FinCap Friday Library to find one that fits your current topic. You can explore by unit or search use the ngpf.org search bar.
2. Unit Kickoff
Start each unit with a FinCap Friday - they introduce new topics in an accessible and relatable way.

3. Whole Class Quiz & Discussion
Go through the quiz questions, video, and discussion prompt all together as a class.

4. Customize to Suit Your Needs
FinCap Fridays are flexible, so you can choose which parts you want to complete and in which order. We took a poll - 68% of teachers said they use both the Kahoot quiz and video when teaching with FinCap Fridays. 15% use the no-tech version. Some teachers start with the quiz questions and others start with the video. It's up to you!
Tips to Level Up
1. Weekly Competition & Wall of Fame
Build a fun routine around FinCap Friday! Every week, the winner of the Kahoot quiz gets to write their name on the Wall of Fame.
2. Jigsaw Additional Resources
Every FinCap Friday includes receommendations for additional resources. Extend the activity by turning these resources into a jigsaw - students work in groups to study the resource, then share out the main idea.
3. Paired with Quizizz
Pair FinCap Friday with NGPF's Unit Review materials. Each unit - and many mini-units - have a Quizlet Deck, Kahoot, and Quizizz.
4. Create Your Own FCF
Once students are familiar with FinCap Friday, have them create their own. This exciting project highlights students' creativity and makes for an easy and differentiated final assessment.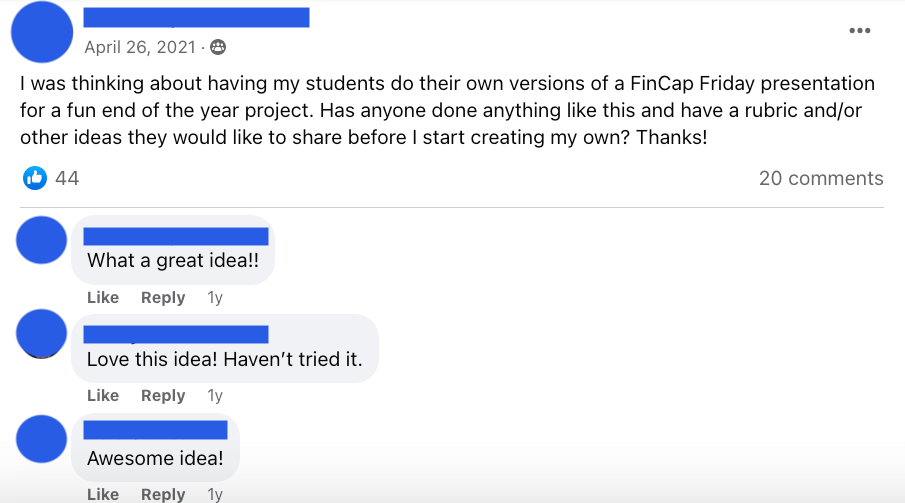 Join the FinLit Fanatics teacher community for more great tips like these!
About the Author
Kathryn Dawson
Kathryn (she/her) is excited to join the NGPF team after 9 years of experience in education as a mentor, tutor, and special education teacher. She is a graduate of Cornell University with a degree in policy analysis and management and has a master's degree in education from Brooklyn College. Kathryn is looking forward to bringing her passion for accessibility and educational justice into curriculum design at NGPF. During her free time, Kathryn loves embarking on cooking projects, walking around her Seattle neighborhood with her partner and dog, or lounging in a hammock with a book.
Subscribe to the blog
Join the more than 11,000 teachers who get the NGPF daily blog delivered to their inbox: