Jun 28, 2022
Interactive: What are the trends in home prices in your community? (Updated)
This interactive from the Federal Reserve enables you to find out how home prices have changed in your county. Will April 2022 be the peak in home prices given the Fed's commitment to raise interest rates to tame inflation?
This was first posted in January 2022. Data has been updated through April 2022.
------------------------------
One of the surprises during the pandemic has been the steep rise in home prices in so many markets across the country. In fact, 2021 was a record year with prices on existing homes rising 17%.
This interactive from the Federal Reserve, Mapping Home Price Changes, will allow your students to see how home price changes at 1200 counties over time from 2003 to present: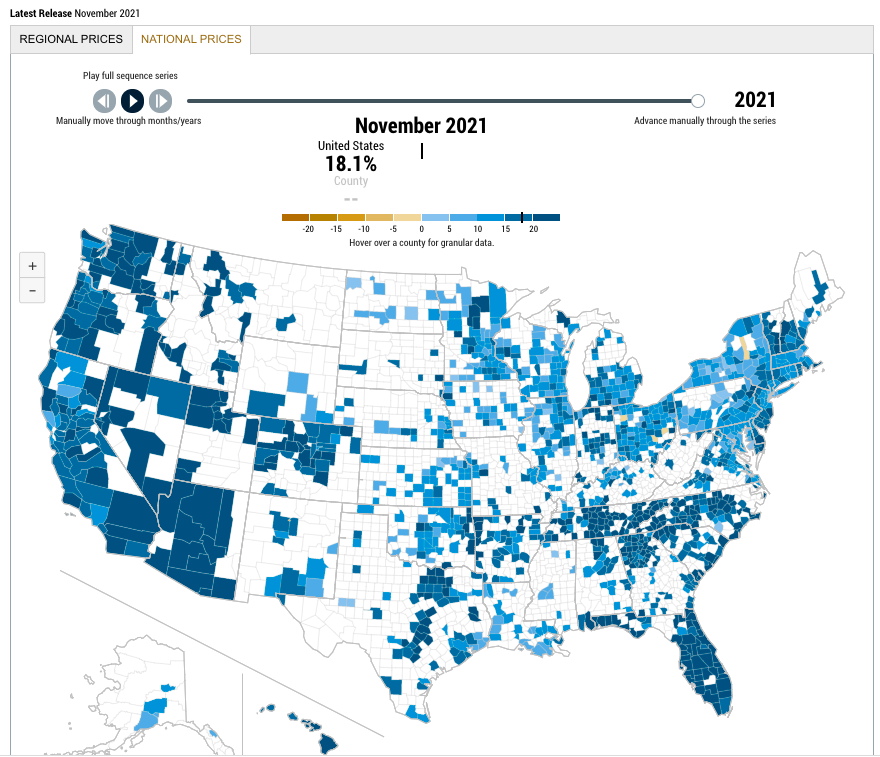 Go to NATIONAL PRICES Tab. Have students familiarize themselves with the color scheme and what it tells them about the year-over-year change in home prices.
Have students first focus on the national map and click on PLAY button to advance the time series from 2003 forward:
What time periods did you see home prices decline nationally?
Do most states/regions seem to have similar price trends or did you notice significant variances?
Move the date to March 2020 and then hit PLAY. What are the national trends in home prices since the pandemic hit? What parts of the country seem to have the strongest increase in prices?
Now focus on your county level data (if data is available) or your state (if county data is not available):
How has your county's trends compared to the rest of your state or region (northeast, south, midwest, southwest or west)?
What have been the changes in home prices in your county/state since the pandemic started in March 2020?
What impact do you think increases in home prices have on current homeowners who don't plan on selling anytime soon? Do you think this increases consumer confidence?
Have you noticed these changes in your neighborhood?
---------------------------------
For more context on the current housing market, check out the Indicator Podcast episode on the housing shake-up.
Check out other NGPF resources available on mortgages and homes.
About the Author
Tim Ranzetta
Tim's saving habits started at seven when a neighbor with a broken hip gave him a dog walking job. Her recovery, which took almost a year, resulted in Tim getting to know the bank tellers quite well (and accumulating a savings account balance of over $300!). His recent entrepreneurial adventures have included driving a shredding truck, analyzing executive compensation packages for Fortune 500 companies and helping families make better college financing decisions. After volunteering in 2010 to create and teach a personal finance program at Eastside College Prep in East Palo Alto, Tim saw firsthand the impact of an engaging and activity-based curriculum, which inspired him to start a new non-profit, Next Gen Personal Finance.
Subscribe to the blog
Join the more than 11,000 teachers who get the NGPF daily blog delivered to their inbox: