Question of the Day: Which item saw the sharpest increase in prices in last 12 months: Gasoline, Bacon or Eggs?
|
Jan 08, 2022
|
Budgeting, Economics, Research, Contest Current
Answer (from Visual Capitalist):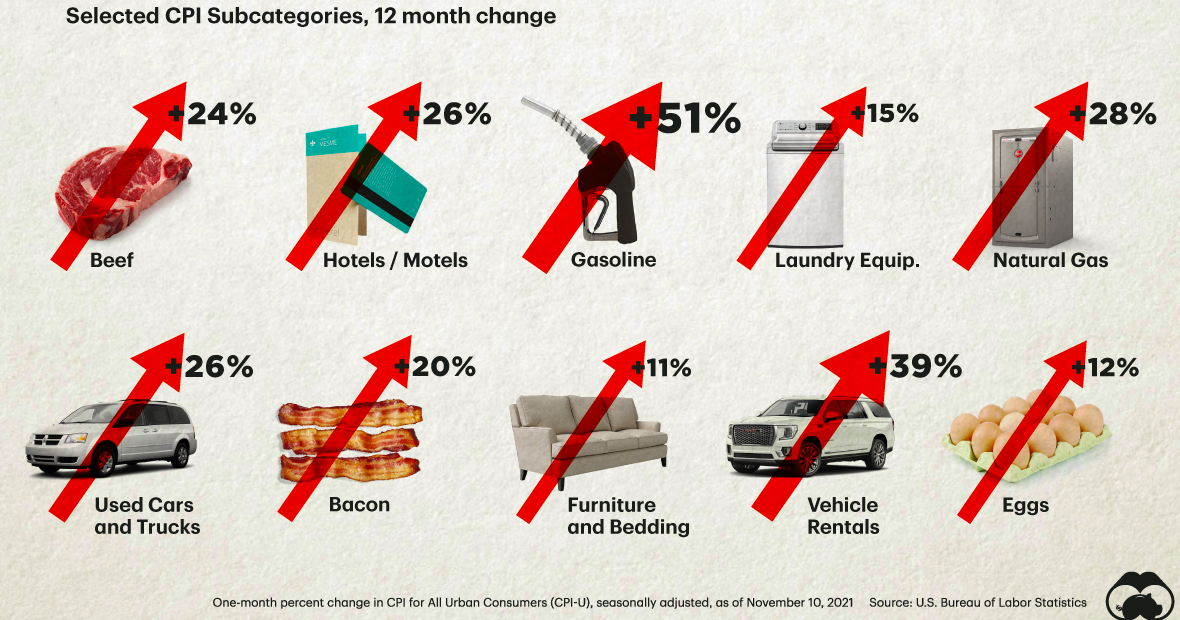 Questions:
Have you noticed inflation (the increases in prices) in items that you or your family purchase in your own lives?
Which of the items above do you think consumers will buy less? Which of the items do you think they will not change their behavior despite the price increases?
Pick one of the items from the list and come up with a substitute that a consumer might choose.

Click here for the ready-to-go slides for this Question of the Day that you can use in your classroom.
Behind the numbers (Visual Capitalist):
Consumers are reeling as prices at the gas pump are up more than a dollar per gallon over the previous year.
Simply put, rising demand and constrained global supply are resulting in higher prices. Even as prices have risen, U.S. oil production has seen a slow rebound from the pandemic, as American oil companies are wary of oversupplying the market.
-------------------------
On the topic of inflation, NGPF has a NEW! contest for your class to participate in. Guess the CPI for the 12 months ending December 2021 and the class could win a $100 Amazon gift card. Contest entries must be received by 8:29am ET on Wednesday, January 12th. Contest details here.
-------------------------
Ever wonder how the Bureau of Labor Statistics calculates the CPI? The answer might amaze you. Listen to this brief Indicator from Planet Money podcast to learn more.
About the Author
Tim Ranzetta
Tim's saving habits started at seven when a neighbor with a broken hip gave him a dog walking job. Her recovery, which took almost a year, resulted in Tim getting to know the bank tellers quite well (and accumulating a savings account balance of over $300!). His recent entrepreneurial adventures have included driving a shredding truck, analyzing executive compensation packages for Fortune 500 companies and helping families make better college financing decisions. After volunteering in 2010 to create and teach a personal finance program at Eastside College Prep in East Palo Alto, Tim saw firsthand the impact of an engaging and activity-based curriculum, which inspired him to start a new non-profit, Next Gen Personal Finance.