Jan 23, 2023
How to use So Expensive in your econ or personal finance class
A really great teacher doesn't just show a video clip to students with no activity or learning opportunity built around it. That's why, as much as we love Business Insider's So Expensive video web series, we know a single video can't stand alone. It's got to be part of a more cohesive plan for your classroom lesson, and why NGPF has been blogging about So Expensive for almost a year now.
Does a Birkin bag or Rolls Royce fit into a high schooler's budget? Unlikely. What about printer ink, avocados, or Japanese chef's knives? So Expensive pairs nicely with any standard high school economics class, but it's also an interesting way to bring econ's factors of production and other core concepts into a personal finance class. It makes econ accessible with a video about a specific product or service that is... so expensive!
Each week's activity will include:
Introduction
Factors of production learning/refresher resources
A Business Insider "So Expensive" video
Factors of production identification activity
Multiple discussion questions about that week's product or service
How do I deliver this activity?
We have included both a Nearpod and no-tech version of the activity. Note: you will need to be logged into your Nearpod account to download the activity. There is no answer key, but the Nearpod version will have answers preloaded in a drag-and-drop activity and the no-tech version will have a slide with example answers for the factors of production. You can do the activity steps together as a whole class, in small group stations, or as independent classwork or homework.
How long does the activity take?
The factors of production video is 4 minutes, and the So Expensive videos range between 5 and 10 minutes. Depending on whether students watch both videos and how in-depth your students go in the discussion questions, it's reasonable to expect the activity to take somewhere between 15-30 minutes.
What if my students haven't learned about the factors of production?
The activity includes a video and infographic that will give students the foundational knowledge needed to understand the factors of production and put that knowledge to use.
Where can I find the So Expensive activities on the website?
On NGPF.org's top navigation, hover over the curriculum menu and click "So Expensive Series" under Economics.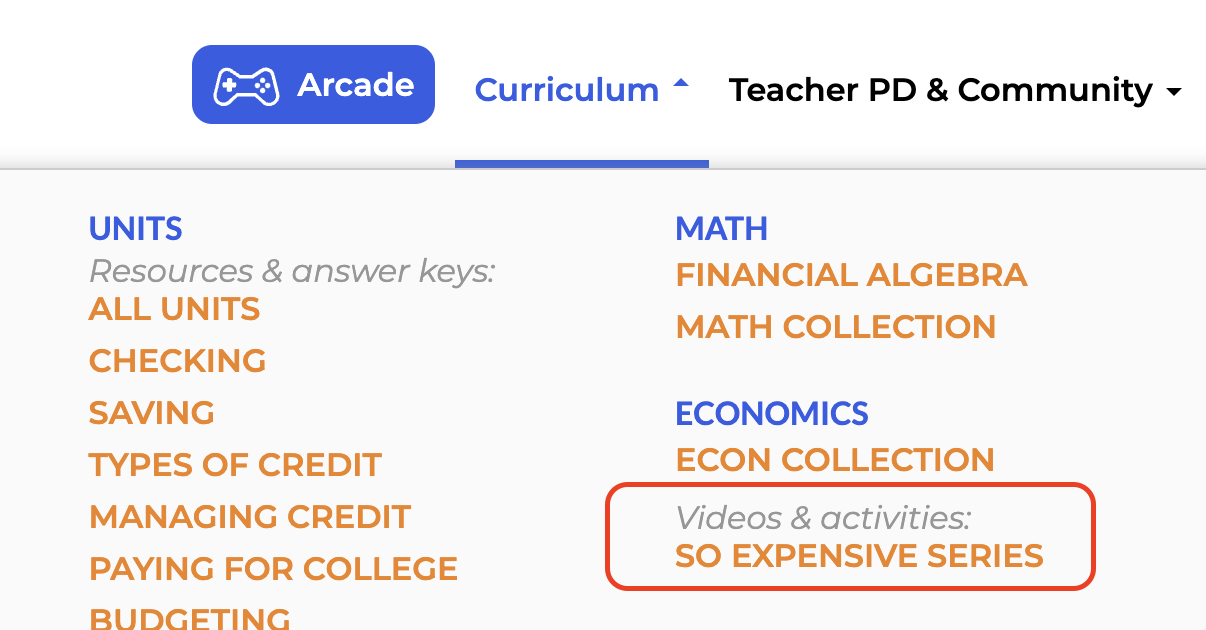 Looking for even more ways to introduce economics into your personal finance classroom? Check out NGPF's Econ Collection!
About the Author
Jessica Endlich
When I started working at Next Gen Personal Finance, it's as though my undergraduate degree in finance, followed by ten years as an educator in an NYC public high school, suddenly all made sense.
Subscribe to the blog
Join the more than 11,000 teachers who get the NGPF daily blog delivered to their inbox: