Question of the Day: Which U.S. cities gained/lost the most inhabitants during 2020?
|
Jun 01, 2021
|
Question of the Day, Current Events
Answer from USPS Change of Address Requests: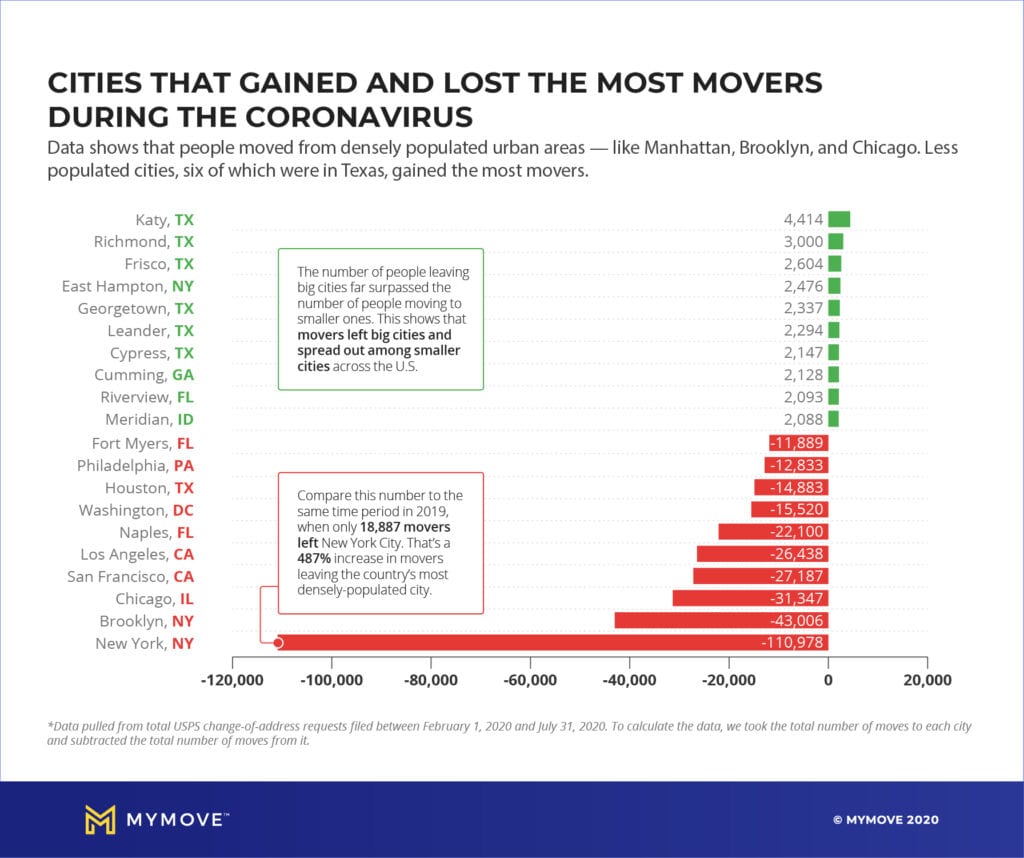 Questions:
What factors impacted the movement of people during 2020?
Where do you think the cost of living is higher? Explain your answer.
Has the last year influenced your decision of where you would like to live in the future? How?
Click here for the ready-to-go slides for this Question of the Day that you can use in your classroom.
Behind the numbers (MyMove):
"According to USPS data, big cities lost the most movers during the first six months of the pandemic. When we looked at what cities experienced the highest net losses, some of the country's most populous areas like Manhattan, Brooklyn, Chicago, and San Francisco made the top of the list.
The number of people leaving big cities far surpassed the number of people moving to smaller ones. This shows that movers left big cities and spread out among smaller cities across the U.S."
----------------
For tons of other graphics on movement during 2020 check out the rest of the article at MyMove.com
About the Author
Mason Butts
After graduating from UCLA with a Master's in Education, Mason spent 5 years as a science educator in a South Los Angeles public high school. He is committed to supporting the holistic growth of all students and empowering them to live a life of relational, academic, and financial success. Now settled in the Bay Area, Mason enjoys facilitating professional developments and partnering with educators as they prepare students for a bright financial future. When Mason is not building curriculum or planning a training, he can be found cycling, trying new foods, and exploring the outdoors.