Dec 28, 2016
NGPF Podcast: Tim Talks to Retired Bankruptcy Judge John Ninfo About His Passion For Financial Literacy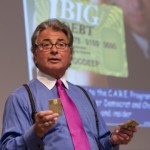 What does a retired bankruptcy judge do to fill his "golden years?" If you are Hon. John Ninfo, you write a weekly column and visit hundreds of classrooms in upstate New York to teach young people about what it means to be financially responsible. If that isn't enough, he also created a non-profit, Credit Abuse Resistance Education (CARE), to bring bankruptcy professionals into classrooms throughout the U.S. to share their experiences. Storytelling has an important place in the personal finance classroom (it is personal after all!) and John's years on the bench in western New York provide him with lots of material to share about the causes of financial distress. In this podcast, you will also hear from the CARE team of Anna Flores and Ian Redman about how you can bring CARE to your classroom. Enjoy!
Details:
0:00

~

1:30

– Introduction

1:30

~

4:20

– Money memories from John's household

4:20

~

6:46

– His work as a judge in the bankruptcy court of Western New York

6:46

~

11:35

– Changes in bankruptcy caseload

11:35

~

15:53

– Reasons that individuals land in bankruptcy court

15:53

~

16:15

– What is a Chapter 13 bankruptcy?

16:15

~

17:12

– Recidivism rate (how often would people show up in his court again with financial difficulties)

17:12

~

19:25

– John's transition to financial literacy education

19:25

~

21:22

– What John wants to teach in class

21:22

~25:10 – Changing people's financial behaviors
25:10~29:45 – Thoughts on student debt
29:45~34:08 – Discharging student loan debt and the Brunner test
34:08~36:05 – Founding CARE
36:05~37:31 – What CARE does today
37:31~38:06 – A word from our sponsor, Next Gen Personal Finance
38:06~39:14 – CARE's reach
39:14~40:48 – Bringing CARE to the classroom
40:48~42:01 – Takeaways from CARE presentations
42:01~42:21 – Requests for presentations
42:21~49:13 – Ian's experience
49:13~51:47 – Rule of thumb for student loans
51:47~52:45 – Parting words
52:45~53:49 – Conclusion
Resources:
CARE website
CARE handouts
Notable Quote:
"If someone had sat down with me and said you are realistically going to make X amount of money per month and your housing is going to cost another X amount  and this is what your minimum student loan payment is going to be and how much money that will cost during the term of your loan and I knew that 50% of my income was going to private student loans, I would have gone and done something else" Ian Redman
About the Author
Tim Ranzetta
Tim's saving habits started at seven when a neighbor with a broken hip gave him a dog walking job. Her recovery, which took almost a year, resulted in Tim getting to know the bank tellers quite well (and accumulating a savings account balance of over $300!). His recent entrepreneurial adventures have included driving a shredding truck, analyzing executive compensation packages for Fortune 500 companies and helping families make better college financing decisions. After volunteering in 2010 to create and teach a personal finance program at Eastside College Prep in East Palo Alto, Tim saw firsthand the impact of an engaging and activity-based curriculum, which inspired him to start a new non-profit, Next Gen Personal Finance.
Subscribe to the blog
Get Question of the Day, FinCap Friday, and the latest updates from NGPF in your inbox by subscribing today: