3 Newest NGPF Curriculum Products: Math, Middle School, & Nearpod!
|
Nov 10, 2020
|
New Products, Middle School Tips
Teachers deserve curriculum that is constantly improving, expanding, and updating to meet their needs. At NGPF, we take teachers' spirit of innovation so seriously that if you blink... you might miss a whole new curriculum product (or 3!) from our rockstar team of curriculum developers. Take a moment today to learn about NGPF's newest FREE curriculum products:
1. The NGPF Math Collection
With personal finance skills becoming more and more relevant across the curriculum, so many math teachers are implementing money-related problems into their classes. On the other hand, so many personal finance teachers are looking to build greater numeracy skills in their classrooms. NGPF's curriculum team came up with a solution to support both challenges... the NGPF Math Collection!
Each NGPF Math Collection Activity is broken down into 3 learning stages:
Examples: a short series of problems / scenarios that illustrate how your students can apply the relevant math skills. Perfect for asynchronous introduction of new content or review.
Practice Problems: 3-5 scaffolded challenges for students to apply the math skills.
Reflection Questions: students make those retention-building connections between money, math, and their own lives.
The Math Collection is organized by math skill... from Evaluating Expressions to higher-level skills like Exponential Equations and Statistics (GIF preview below)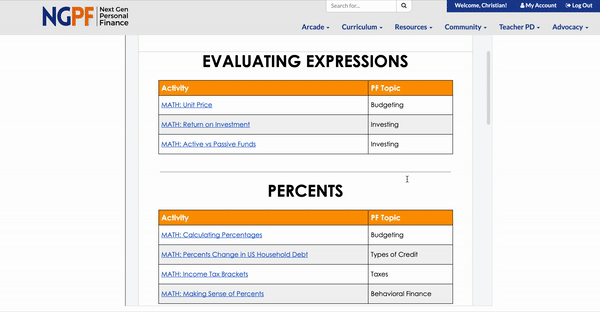 Explore the NGPF Math Collection here!
2. The NGPF Middle School Course
Building foundational money habits, mindsets, and skills in younger students is crucial! That's why NGPF has welcomed nearly 2,000 new middle school teachers into the NGPF community in the last 12 months alone.
To support the fast-growing community of middle school teachers and their students, NGPF's curriculum team has built a specialized Middle School Course: 9 Middle School Units comprised of 60-minute Lessons. Pick and choose based on your current topic, or start from the first Unit, Money in Our Lives, where students explore how their values and experiences affect their decisions about money.
Each NGPF Middle School Course Lesson is broken into 4 learning stages:
INTRO: Teachers help students make connections between their life experiences and the learning objectives of the upcoming lesson
LEARN IT: Students explore videos, infographics, article snippets, games, and more to help illustrate and practice the learning objectives
DO IT: Students apply their newly practiced skills to more complex, rigorous challenges
EXIT TICKET: Students demonstrate their mastery of the learning objectives for the lesson
Explore NGPF's Middle School Course here!
3. The NGPF Nearpod Collection
Wildly popular for remote, hybrid, and in-person instruction, Nearpod is a student engagement platform that takes shared slides and makes them interactive with features like polls, mini-quizzes, collaboration boards, matching activities, embedded videos, and more. NGPF's curriculum team went to WORK over the Summer of 2020 to convert NGPF's entire 9-Week Course and Semester Course to the Nearpod platform! NGPF then made these interactive lessons accessible to all - even teachers who have free Nearpod licenses - through our new Nearpod Collection page.
As long as you have a Nearpod account, all you need to do is:
find a lesson, and
click "Add to my Library" (GIF preview below)
The best part? Students don't need licenses or downloads to join your Nearpod lessons! You send them the join instructions (either a direct link to your Nearpod lesson or a copy-and-paste code), and WHAM! They're in, ready to engage with your awesome lesson.
Explore the NGPF Nearpod Collection here!
Want Nearpod Lessons that are even easier to customize? Check out the Nearpod Collection in Google Slides!
About the Author
Christian Sherrill
Christian comes to NGPF from the world of classroom instruction, where he was a teacher for three years at a public middle school in El Sobrante, California. After leaving the classroom, he joined math tutoring company, Zeal Learning, to help grow their educator-facing sales and marketing efforts. He's no stranger to making a dollar stretch - while living in the Bay Area on his teacher salary he paid down over $40k in student loans in the span of 3 years. He's thrilled to share those lessons with teachers and students around the U.S.